Shirlee Smith Matheson has lived in all four Western provinces, and presently makes her home in Calgary.
Her nonfiction books bring to life stories of real Canadians - pilots and priests, explorers and engineers, bushmen and prospectors.
Her historical teen novels reflect the excitement of phenomenal journeys and major Canadian missions, and introduce readers to very odd places that really existed once upon a time. Her contemporary teen novels are also guaranteed to excite young readers everywhere.
------------------------------------
Sept 17, 2014

Heritage House Publishing Co. Ltd., Victoria, BC, is releasing exciting new updates of former award-winning young adult novels by Western Canadian authors, under their imprint "Wandering Fox." The publisher has informed me that my novel, Prairie Pictures, is now at the printer and is expected back in mid-October. It is now time to start on the updates for its sequel, City Pictures, to be released in 2015!

Please see information and new book cover of Prairie Pictures on "News" page.

"Shirlee attended, and presented her books, at the August 23, 2014, event at Bomber Command Museum, Nanton, Alberta. Photo credit: John Chalmers."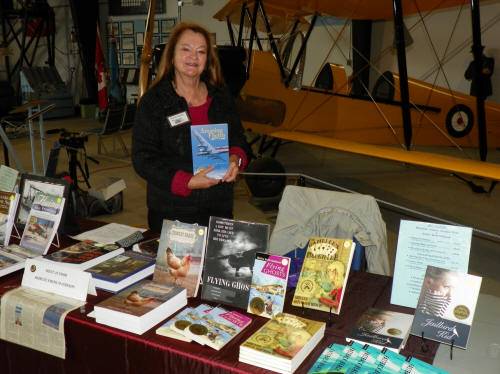 NEW RELEASE

(Dec 8, 2013)



A ROYAL BALANCE
(The Life and Times of Hal Wyatt)
By Shirlee Smith Matheson
"I never thought of philanthropy as an obligation, just an opportunity to help people over a rough spot. I still from time to time come to realize that things are not going well and I ask, 'Can I help?'"
This simple quote exemplifies Hal Wyatt's philosophy, and his prairie heritage. Throughout his life there has been the consistent theme of honour and commitment: to his country by his service in the Second World War; to his lifelong employer, the Royal Bank of Canada; and equally to his family, friends, and community. Fittingly, numerous awards have celebrated his achievements: the Order of Canada, and the Alberta Order of Excellence; the Queen Elizabeth Silver, Gold and Diamond Jubilee medals; the 125thAnniversary of Confederation medal; two Honorary Doctorates (University of Saskatchewan and University of Calgary); and chairmanships on numerous corporate and philanthropic boards.
The author of A Royal Balance, Shirlee Smith Matheson, has written more than a dozen fiction and non-fiction books. Her literary awards include The 99s Canadian Award in Aviation; The Emerald Award; Honorary Associate of Arts (Northern Lights College), and Distinguished Alumni 2001-2 (Athabasca University). She has known and worked with Hal Wyatt for many years.
On every page of this book, Hal's sense of honour and humour combine to bring a very personal story to light. This is the account of one of our most modest, and respected, Canadians. Hal Wyatt's story is a gem!
July 2012
Explanations for photos: "Paddle for the Peace" is an annual event in support of the continued natural life of the Peace River downstream from Hudson's Hope, the site of BC Hydo's two dams, and in protest against a third proposed dam (Site C) on this beautiful river.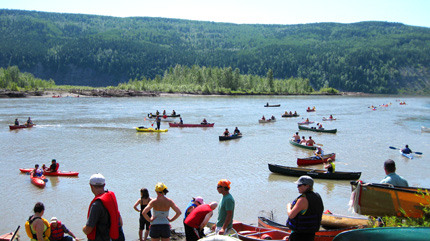 Photo: Paddle for Peace.2 (Around
300 paddlers take to the water)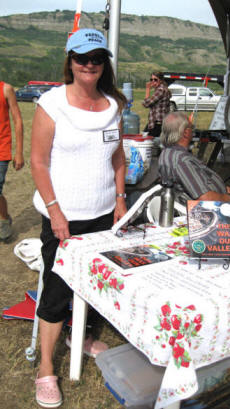 Photo: Shirlee at the Paddle-Book Table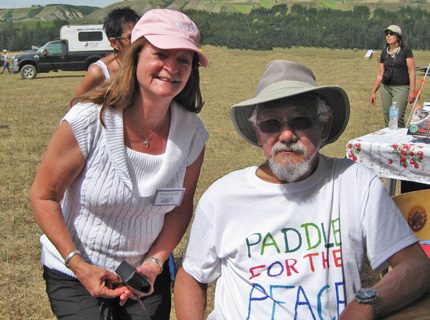 Photo: Dr. David Suzuki, guest speaker at Paddle for the Peace, and Shirlee (he had earlier written a letter to the author, commenting favorably on This Was Our Valley, and his wife bought another copy at the event).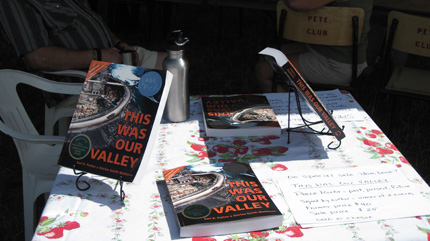 Photo: Book table.1 ("This Was Our Valley", by Shirlee Smith Matheson and Earl K. Pollon, says it all. Book sales of "the dam book" were brisk.)
News June 2011
Shirlee, Bill and dogs follow their hearts adventuring in Peace River Country: http://www.rvwest.com/journeys/Following_their_hearts/. To read full article by Kali Love, with photographs, download Following their hearts
Fall 2011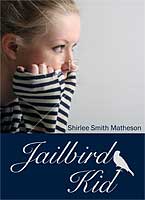 Jailbird Kid, ISBN-10: 1554887046, ISBN-13: 9781554887040, a teen novel by Shirlee Smith Matheson, is published by The Dundurn Group, Toronto. "Angela Wroboski has recently moved with her mother from their small hometown into the city to rid them of a dark past. Now Angela must deal with the fact that her home will be anything but "normal". Her dad, the infamous Nick "The Weasel" Wroboski, is being released from prison on June 5th - Angela's 15th birthday." Jailbird Kid
May 2010
Country Roads, ISBN 9781551097596,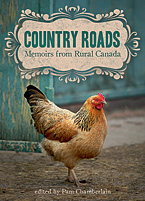 Shirlee's story "Valley Girl" appears in this anthology, published by Nimbus Press - 288 pages $19.95.
"Honest Brave Tales from just plain folks . . . a compelling new anthology that pulls together 34 engaging stories  . . . that highlight the shared experiences of rural life. Some entries are only a few pages, flashes of memory filled with meaning. Former Manitoban Shirlee Smith Matheson eloquently writes of her childhood near Riding Mountain National Park, sharing short but evocative stories and family and loss."
— Julie Kentner, Winnipeg Free Press, June 19, 2010
New January 2010

Amazing Flights and Flyers
, ISBN 978-1-897181-29-4, Frontenac House Publishers, Calgary.
"The latest in Shirlee Smith Matheson's popular Canadian aviation stories,
Amazing Flights and Flyers
, is a fascinating collection of adventures ranging from aerial hijackings to secret Nazi weather stations in Labrador, from the missions of the Civil Air Search and Rescue Association to an incredible aerial rescue expedition in the Antarctic. Every story is different, every story is astonishing, and every story is completely true!" —
more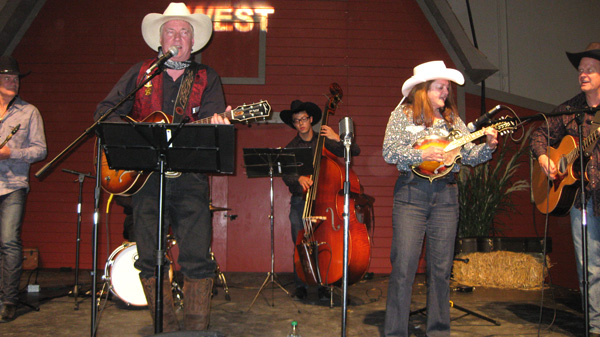 July 7, 2013 - Shirlee on the Western Oasis Stage at the
Calgary Stampede with the Dusty Saddle Gang.
WordsWorth Writing Camp 2011.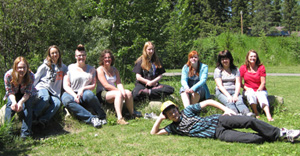 Shirlee (far right) with her class of storykeepers, WordsWorth Writing Camp 2011.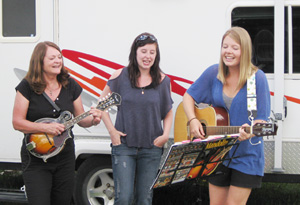 The Trailer Trash Trio, so named because they practiced at Shirlee's on-location trailer. L to R: Shirlee, Julia and Danielle warming up for their "Instructors' Talent Night" presentation at WordsWorth Writing Camp 2011.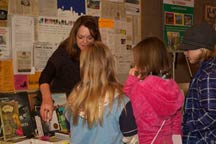 Shirlee showing her latest young adult novel to children attending the Calgary Children's Book Fair held Saturday, November 27, 2010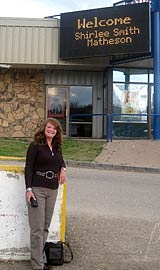 June 1-11, 2010: Shirlee's Northern tour - Peace River and Grande Prairie AB, to Fort Nelson BC
Photo: Shirlee is welcomed to Fort Nelson, BC.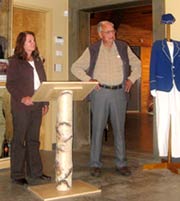 Author reading — 7 pm Tuesday, June 1, Peace River. Featuring many northern aviation stories, including "The Murphys of Musk Ox Lake," the story of Peace River resident Neill Murphy (right), who was in attendance (from Shirlee's newly released book, Amazing Flights and Flyers)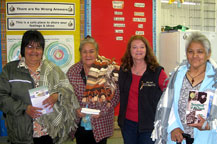 Thursday, June 10, Shirlee gave readings/workshops to First Nations Reserve, Prophet River - Shirlee with Elders
Shirlee is listed In Silhouette: Profiles of Alberta Writers in the on-line Alberta Writers Directory which is found on the Frontenac House website - to read her extended bio go to the following 3 pages "excerpted from In Silhouette, an ebook about Alberta writers by Bob Stallworthy"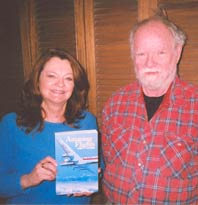 Left: Shirlee with Dave Scollard, Frontenac House, with the first copy of Amazing Flights and Flyers
View a video of Shirlee talking about her writing at www.wiredforwords.com — Select Featured Authors - Shirlee is the November 2006 Author of the month

Visit News to read more news releases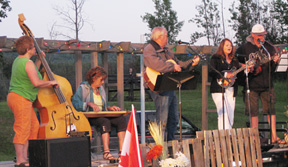 Enjoying a musical evening in
Hudson's Hope, BC, August 2011.
L to R: Colleen on stand-up bass, June on dulcimer, Ed on guitar, Shirlee on mandolin, Bill on guitar.